What Are The Basic County Functions?
&nbsp &nbsp &nbsp &nbsp The "County" is the State Legislature's reach into all the geographic areas within Oregon. &nbsp Originally, this was for the enforced collection of taxes and to maintain 'law and order'. &nbsp This has expanded to include all manner of local administering for the benefit of the State and its people. &nbsp Over time, various State programs administered by the County Administration were moved into new 'Districts'. &nbsp Many such Districts were supported by taxes and fees collected from those within each Districts footprint. &nbsp An example are School Districts. &nbsp The people could also create a District voluntarily for specified purposes as is the case with Public Utility Districts. &nbsp The responsibilities and authorities of each District are carefully not in conflict with another District. &nbsp So, Lane County District does not run the Mapleton School District nor the Western Lane Ambulance District while Lane County retains running elections, collecting property taxes, and police/sheriff/court functions over both. &nbsp The Country Tax District has become just another District with its own set of duties and responsibilities. &nbsp Looking at the map of Districts, some contain portions of two or more adjacent Counties. &nbsp &nbsp (Click here for Oregon Blue Book description.)
&nbsp &nbsp &nbsp &nbsp County administration takes the forms of "County Court" with a Judge and two commissioners, "Board of County Commissioners" with three commissioners, and "Home Rule Charter" with a Board of County Commissioners of what ever is specified by the Charter. &nbsp Siuslaw County would start as a "County Court" with the Judge having the default duties of misdemeanors and probate. &nbsp Many counties that transferred the judicial responsibilities (misdemeanor/probate) to the State voiced their regret in the loss of local control over how their troubled youths and minor offenders were treated. &nbsp Siuslaw County will likely be administered under the form of "County Court" having an elected Judge with misdemeanor/probate functions kept local. &nbsp Lane County, one of nine with Home Rule Charters, with a population of 350,000 plus, with the size of Connecticut; may need its huge and overbearing bureaucracy. &nbsp With only 5% the population and 10% the land area, Siuslaw County will operate easily and efficiently under the common County Court form.
&nbsp &nbsp &nbsp &nbsp Being a new county, it will also start without the burden of 160 years of sometimes bad decisions Lane County labors under. &nbsp One decision Siuslaw County can make is not to use PERS in the compensation package it offers its workers. &nbsp Then Lane County has five commissioners whose combined salaries, pensions, benefits, expense accounts, office and staff, etc. cost the Lane County people $1,000,000 (one million) per year. &nbsp Lane County also has an expensive full-time County Administrator, a possition that encouraging staff self-interest over those of the people. &nbsp Some counties use the judge and two commissioners as part or full time department heads eliminating the issues with county administrators. &nbsp And counties may add all sorts of optional social programs, can adopt fairgrounds and event/sports centers, operate various business enterprises, and in general far exceed it basic legal obligations. &nbsp Some county departments/programs are paid by State/Federal funding, some are self supporting through fees and fines, some rely on property and business taxes, some by private/public grants, and then many by volunteers. &nbsp The Association of Oregon Counties created a simple table showing the County/State individual/shared functions.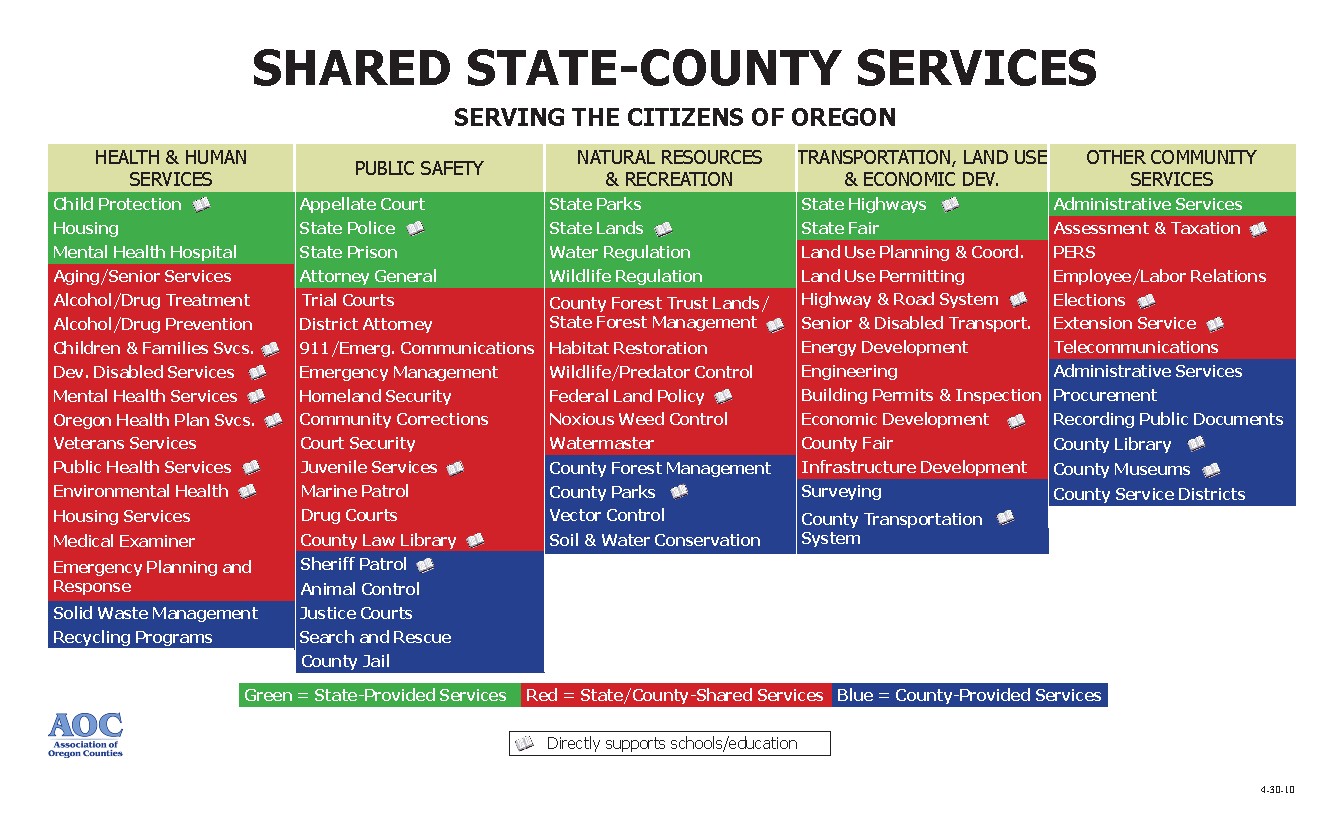 AOC Video: What Counties Do {takes several minutes to load}

&nbsp &nbsp Safe - Local - Equitable - Affordable - Representative &nbsp &nbsp